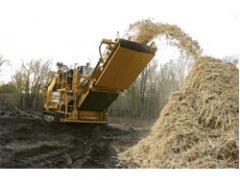 Reilly Construction Co. Inc., Ossian, Iowa, has completed several state highway reconstruction projects that have entailed clearing and grading land. The company's most recent project happened to be one of its largest.
Reilly Construction was hired by the Iowa Department of Transportation (IDOT) to clear 150 acres of right-of-way for the reconstruction of U.S. Highway 63/34 and Iowa Highway 163 near Ottumwa. The IDOT planned to construct a four-lane divided highway around the north and east sides of Ottumwa.
Before contractors could begin paving the new bypass, Reilly Construction crews had to grind all the trees and shrubs that had to be cut down earlier that spring and dig out the stumps that remained. To handle the job, Reilly crews used a Vermeer HG525TX Horizontal Grinder on tracks, a backhoe with a hydraulic thumb and bulldozers.
Crews cleared out a 12-mile stretch along the right-of-way of U.S. Highway 63/34 to connect it to Iowa Highway 163. The right-of-way measured nearly 1,500 ft wide.