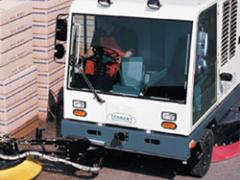 The Tennant Sentinel (Circle 911) provides superior sweeping performance in the harshest, most congested sweeping environments.
The environmentally friendly machine features all-weather dust control. It has a unique twin-vacuum fan design that delivers superior dry dust control that meets stringent PM-10 environmental requirements.
The Sentinel also focuses on safety, with a full-view, cab-forward design. Glass doors and windshields provide clear views of the cleaning path for improved safety and confidence.
Four-wheel power steering and suspension, a height of only 100 in. and a 13-ft turning radius make the Sentinel easy to maneuver through congested spaces, from tight manufacturing aisles to alleyways.