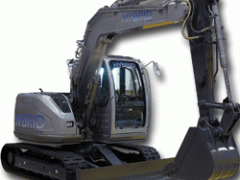 Earlier this year, New Holland unveiled a prototype HYBRID 7-ton-class crawler excavator. The HYBRID is breaking ground with the development of environmentally friendly construction equipment that reduces emissions and fuel consumption.
Kobelco Construction Machinery America Co. Ltd. designed The HYBRID excavator in partnership with New Holland. Both Kobelco and New Holland are brands of CNH Global N.V.
Featuring a diesel engine and a battery-powered motor, the HYBRID offers the operating performance capabilities of a traditional diesel-powered 7-ton-class excavator. Fuel consumption and carbon dioxide emissions have been reduced by 40% on the HYBRID, as compared with New Holland's current diesel engine base model, the E70 midsize excavator.
The HYBRID's battery-powered motor enables the use of a smaller diesel engine, reducing noise levels and lowering emissions and fuel consumption without sacrificing digging performance. Serving as a power generator to charge the dedicated battery, the electric motor assists the diesel engine by driving the hydraulic pumps connected to the boom, arm and bucket cylinders and travel motors. The battery supplies electricity to both the electric motor and the electric swing motor.
Before bringing the HYBRID crawler excavator to market, New Holland will continue to refine the prototype's performance, while scanning the horizon for future market trends and changes in operational requirements.