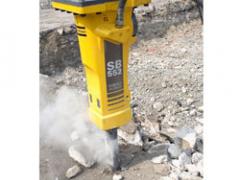 Atlas Copco Construction Tools LLC has introduced the SB 552 (Circle 914), the largest model in its new generation of SB hydraulic breaker attachments. The new breaker is ideal for a multitude of applications including demolition, road construction, building renovation, foundation work, trenching, landscaping and secondary breaking.
Responding to customer demands for a larger solid-body breaker model, the 1,149-lb SB 552 weighs 210 lb more than the SB 450, the largest model in the previous Atlas Copco SB line. The new breaker offers a high power-to-weight ratio and is suitable for carriers in the 9- to 15-metric-ton weight class.
The SB 552 delivers a maximum impact rate of 1,080 blows per minute and requires oil flow of 17.2 to 30.4 gal per minute at a pressure range of 1,450 to 2,180 psi.