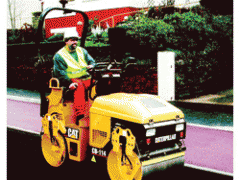 The AP10055D is a high production 10-ft asphalt paver that features a Cat C7 engine with ACERT Technology, dual operator stations, exclusive Mobil-trac undercarriage or steel-track undercarriage, high-capacity cooling package and Caterpillar's unique material handling system with independent feeder and auger controls. The AP-1055D sports dual swing-out operator stations that can be rotated into four different positions. The operator stations can be positioned beyond the machine frame for a better view of the work area when matching a joint or in other applications where precise control is required.
The material handling system maintains the proper head of material in front of the screed. Left and right augers are controlled independently. Left and right feeders are also controlled independently of each other. Having the ability to control these four systems separately eliminates the need for feeder gates, which are found on most competitive asphalt pavers.
The CB-113 is a double drum with a 35-in compaction width and an operation weight of 3,310 lb. the CB-113 includes an offset front drum and provides total compaction coverage close to curbs and walls around other vertical obstructions.
The CB-114 has a compaction width of 31 in. compaction width and an operating weight of 3,310 lb. it features two driving, vibratory drums, the drum vibrations can be selected on either both drums or on the front drum.
The CB-113 and CB-114 have a frequency vibratory system that generates 53 Hz. The CB-114 provides two vibratory modes, front drum only or both drums while the CB-113 features vibration on the rear drum.