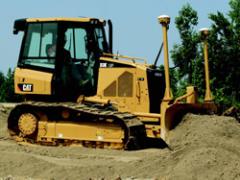 Caterpillar's K-family of track-type tractors, the D3K, D4K and D5K, feature a larger, quieter cab and intuitive, seat-mounted controls to improve operator comfort and productivity. The machines can be shipped from the factory ready to accommodate the AccuGrade system, an exclusive Cat blade-control solution that allows fast, precise grading.
The new tractors also feature engine power increases ranging from 5% to 7% for higher productivity. The Cat C4.4 engine with Acert technology powers the D3K (74 hp), D4K (84 hp) and D5K (96 hp). The engine meets Tier III certification requirements while offering high performance, life and fuel economy.
Seat-mounted, intuitive, electro-hydraulic controls make the operator's job easier and less fatiguing. Lever efforts are decreased by as much as 90% compared with conventional mechanical control levers. The left joystick, which controls speed and direction, incorporates a thumb wheel for on-the-go speed adjustments, plus a speed recall button that lets the operator quickly select a programmed operating speed. The right joystick controls blade movement and includes an automatic blade shake button for easy removal of excess material.