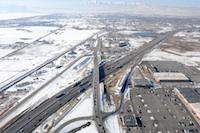 Cold winter months might not seem like the ideal season to invest in roadside vegetation management. But according to Victor Maddox, Ph.D., senior research associate at Mississippi State University, that's precisely the best time for DOTs to focus on eliminating invasive species to both save money and, more importantly, increase safety along the roadway.
Maddox, who gave a talk at the National Roadside Vegetation Management Association (NRVMA) in September, said that the benefits associated with taking a proactive approach to roadside vegetation management far outweigh the costs.
"The value in it is huge," he said. "You look at species like cogongrass, and we spend millions of dollars on it every year. Obviously there's great value in detecting something very early."
This is particularly true in the winter months, when DOT crews aren't as busy with maintenance and construction projects. Maddox pointed out that there are many instances when DOTs can use herbicides in the winter—particularly when dealing with invasive evergreen species. There are other ways to "mop up" pesky roadside vegetation during the winter as well.
However, one of the most valuable things DOTs can do in the winter is map invasive species so that they have a better idea of what they're up against come spring and summer.
"I'm just not sure that you can really afford not to spend time when you have time to locate these species," he said.
Maddox cited the old adage that an ounce of prevention is worth a pound of cure. Not taking care of problematic grasses now could mean more mowing later on in the year.
In addition to the economic savings, he said winter roadside vegetation management can impact roadside safety as well. Many species targeted by DOTs can grow tall enough to affect visibility. And if a car happens to drive off the road—and its converter comes in contact with tall grass and starts a fire—the vehicle could quickly burn up.
In his presentation, Maddox emphasized cooperation between DOTs and other organizations when it comes to weed management. DOT territory often covers a diverse array of ecosystems—not to mention the vast amount of highway miles. So Maddox pointed out that there is a lot of potential for mutually beneficial relationships by collaborating with other weed-management organizations.
Overall, though, Maddox stressed that while plants may not be growing much during the winter, it's the perfect season for DOTs to treat certain affected areas, map out invasive species or at least collaborate with other organizations to capitalize on shared knowledge.
Source: Mississippi State University