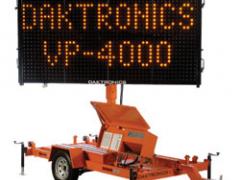 Daktronics, Brookings, S.D., introduced the VP-4000 sign (Circle 906), a portable variable message sign for work-zone safety and temporary traffic control, at ATSSA's New Product Press Event during Traffic Expo.
The new VP-4000 sign integrates proven technology from Daktronics' permanent transportation products to produce a work-zone safety trailer whose design emphasizes safety, reliability and ease of use.
The sign has a black steel mask on the face, which eliminates glare while providing increased contrast. It makes the sign easier to read in all weather and lighting conditions. The display is rotated by a worm-gear mechanism, which ensures it is always in place, eliminating the hazards of deploying the display in windy environments.