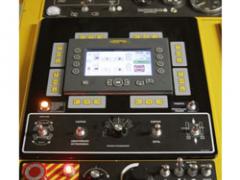 GOMACO has revolutionized their machine control system and has introduced the new G22 digital control system (Circle 911). The G22 was built on the technology and user-friendliness of the G21 system and has improved on those features. The G22's dual-language option is available in both English and the customer's language of choice. GOMACO machines already in the field with the G21 controller can be upgraded to the new G22.
Its operator interface has been redesigned to include colored screens with pictograms, which reduce the operator's learning curve to a minimum. The newly designed icons and colored graphical display make the G22 easy for the operator to learn, understand and identify the various machine functions. Fourteen function buttons, bright-colored graphics and full-text explanations provide a user-friendly operator experience.
The G22 display features the new TFT (Thin Film Transfer) flat-panel technology with an antiglare display screen and sensor-controlled backlight levels. Its shock-resistant construction protects it from dust, moisture and rain.