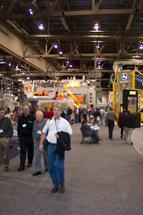 New Holland had a new look during the opening day of World of Concrete. The Carol Stream-based manufacturer showcased a fresh logo to go along with an updated list of equipment. New to the loader backhoe line for New Holland is the B95, B95TC, B95LR, B110 and B115. The W50TC and W80TC are the new additions to the compact wheel loader group.
The B95 and B95TC models are in the 14-ft-size class, while the B95LR, B110 and B115 compete in the 15-ft-size class.
"In the last 40 years, we've seen a lot of changes and improvements to the tracto r loader backhoe," said Eric Winkler, brand marketing manager for New Holland, which announced close to $1 billion in business in 2005. The company has experienced 40% growth over the last three years and is predicting the industry to post 3.3% growth in 2006. "These New Holland loader backhoes lead the industry in loader breakout force to excel in the toughest conditions."
The B95TC tool carrier version delivers self-leveling both up and down and includes a standard hydraulic quick coupler. The B95LR long-reach version is the base B95 model with the B110 stick, essentially making it a 15-ft machine.
The turbo-charged 4.5-liter New Holland engines use heavy-duty valve train components and a self-adjusting poly V-belt for durability.
On the wheel loader end, the W50TC and W80TC are powered by oil-cooled Deutz engines that produce 55 and 75 gross horsepower. Operating weights are 10,173 and 12,727 lb, while bucket capacities are 1 an d 1.44 cu yd, respectively.
An integrated hydraulic coupler, a quick-attach mounting system and built-in, front-mounted hydraulic disconnects allow the operator to move quickly and easily between job applications, according to the manufacturer.