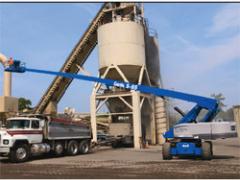 Genie Industries has introduced newly redesigned versions of its popular S-80 and S-85 telescopic booms. The significant changes include:
Fixed-width axles;
An exclusive virtual pivot-boom assembly;
Faster elevation time;
Improved software design for smoother, more comfortable operation; and
Intuitive operator and serviceability features.


The fixed-width axles on the redesigned S-80 and S-85 booms give the machines an 8-ft 2-in. total width, both on the trailer and on the jobsite. They can be easily transported over the road without a special permit on a standard equipment trailer. Because the axles are fixed, the boom is ready to drive right off the trailer, maximizing productivity at the jobsite. The fixed-axle system improves the machine's durability and efficiency, as serviceability is easier and less costly by having fewer hydraulic components and moving parts.
New to the S-80 and S-85 telescopic booms is the exclusive virtual pivot-boom design, which Genie Industries introduced in 2003 on the S-60 and S-65 booms. The primary benefit of a virtual pivot boom is its ability to keep the weight of the boom over the chassis's center of gravity as it elevates.