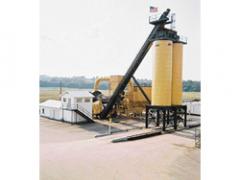 Asphalt Drum Mixers Inc. of Huntertown, Ind., manufactures a complete line of portable and stationary plants available in both counter-flow and parallel-flow designs, including the Milemaker Series. With its dual-drum counter-flow design, the Milemaker offers the highest level of dependability and performance for all day, every day operation at an affordable price.
The Milemaker's separate drums allow for the best drying and mixing times available. Contractors are assured the most fuel-efficient drying while producing the highest quality of mix. The separation of the two distinctly different processes is the heart of the design. This allows for easy maintenance, incredibly low emissions and the versatility of introducing whatever additives the industry may specify in the future.
As the price of oil continues to rise, recycling is playing a larger role than ever before. The Milemaker can effectively run up to 50% recycle without loss of mix quality and still maintain a clean exhaust stack.