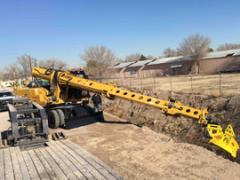 Gradall Industries Inc. has introduced the XL 5100 III excavator, the company's largest production model for construction markets, representing dramatic new Gradall-engineered advantages over the model it replaces, the XL 5100.
The XL 5100 III, weighing just over 55,000 lb, reflects a new Gradall design philosophy that delivers increased performance, excellent cost containment and a shorter carrier for easier highway mobility and a shorter rear swing.
Unlike the XL 5100, which used two Cummins engines, the XL 5100 III uses just one Detroit Diesel Mercedes engine. Conserving fuel while producing greater horsepower, the new engine operates both the truck carrier and the upper structure and boom. The concept reduces maintenance costs with only one electrical system, one radiator, one set of filters and other nonredundant features.
While the old model required two fuel tanks, one with 86 gal and one with 50 gal, the efficient new engine is paired with a single 100-gal tank.
In the chassis cab, the operator can drive the excavator at highway speeds to one or more jobsites in a single day. From the upper structure cab, the operator uses the same engine to reposition the carrier and operate the powerful telescoping and tilting Gradall boom. New electronic joysticks replace hydraulic controls, providing optimum reliability. Using a switch in the cab, the operator can now select the Gradall, SAE or Deere joystick pattern.
Operators of the new model have greater control over their carrier positioning speed using a two-speed switch in the upper cab.