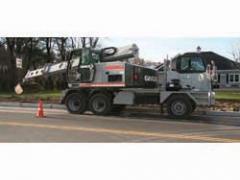 Gradall Industries Inc. has introduced the XL 5100-III excavator—the company's largest production model for construction markets. The new excavator represents dramatic new Gradall-engineered advantages over the model it replaces. The XL 5100-III, weighing just over 55,000 lb, reflects a new Gradall design philosophy that delivers increased performance, excellent cost-containment benefits and a shorter carrier for easier highway mobility and shorter rear swing.
The XL 5100-III uses a Detroit Diesel Mercedes engine. Conserving fuel while producing greater horsepower, the new engine operates both the truck carrier and the upperstructure and boom. The efficient new engine is paired with a single 100-gal tank and also has a longer warranty with standard 600-hour service interval.
The XL 5100-III models are available in 6 x 4 and 6 x 6 configurations. Its carriers are 6 in. narrower than the models they replace, so they can now be driven on highways without an over-width permit.