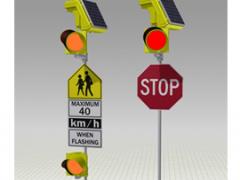 The Four Season Flashing Beacon from North America Traffic provides maximum visibility in the harshest conditions. Designed to save time and money, no trenching, electrical permits or hydro meters are required. The beacon comes in a variety of configurations making it extremely versatile.
Since 1994, we have set the standard for design flexibility, lasting quality and expertise in traffic control devices.
North America Traffic is an ISO 9001:2008 registered company.