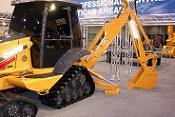 Jim McCullough, president of construction equipment of Case New Holland Inc., sat down with ROADS & BRIDGES magazine during ConExpo-Con/Agg 2005 on Wednesday to talk about the Las Vegas show, the market and his Racine, Wis., company.
ROADS & BRIDGES: What are you seeing out there on the show floor?
Jim McCullough: This is the best that I have seen. The 1999 show may have been better, but I don't think it was better for Case at that time. We have a strategic location (for the Case booth) which is excellent. Traffic counts for New Holland and Kobelco out in the Gold Lot are outstanding. I would say there is a great deal of enthusiasm by the end user. I'm very pleased with what I have seen so far.
R&B: Everyone is predicting continued success in 2005, but what about 2006? Some people say it's going to level off in 2006. Do you see that happening?
JM: I just got the information yesterday, but as you look out from 2005 to 2009 there are some fundamental economics that are very positive. So you could weave a story that might look like continual growth. I think my own positioning is a little more conservative. I think there is the possibility that 2006 will settle down a little bit. I do believe we're going to come out of this year better than last year, and if 2006 is equal to 2004 that would be fine. We don't see a recession, but we do see a slight dip in 2007.
R&B: Residential construction is a big force in this industry, but what about the road and bridge building industry?
JM: I'm getting a little concerned because obviously (reauthorization of TEA-21) hasn't come out yet. If it doesn't come out pretty soon you won't get much benefit of it this year because what you have to have happen is the release of the bill, the authorization of the projects and the requirement for the state matching. The good news is there is enough work let that the business certainly has been buoyed by the amount of work that is in process.
R&B: I understand you have a concept loader backhoe at the Case ConExpo booth. Tell me about it.
JM: The backhoe has been brought here to make a statement. CNH has been a leader in light equipment all of its life. We wanted to make a statement of what forward thinking is really like. I brought it as much for traffic building than anything else, but it has the potential to be put in production. We want to get direct feedback from the customers as they come in and see it.
R&B: So what has been some of the feedback so far with that vehicle?
JM: There has been feedback from competitors coming over and saying, "When is this coming out." I just smile and say, "Maybe Spring." The feedback so far has been curious. The next phase is to figure out who is interested and what kind of percent of business could it represent.