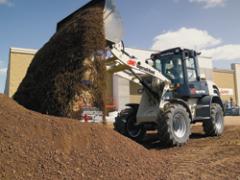 Ingersoll Rand of Davidson, N.C., provides earthmoving power with two compact wheel loaders: the WL-350 and the WL-440. The wheel loaders combine several innovative features for exceptional performance in building, landscaping, rental and utility applications, as well as general construction and repair work.
The 60-hp WL-350 (Circle 906) has an operating weight of 11,240 lb and a bucket size of 1.2 cu yd. The 73-hp WL-440 (Circle 907) has an operating weight of 13,230 lb and a bucket size of 1.4 cu yd. Innovative parallel loader linkage assures high breakout force and enables these wheel loaders to function as tool carriers by maintaining load position parallel to the ground throughout the lifting range. The breakout force of the WL-350 is 10,128 lb, and the breakout force of the WL-440 is 12,730 lb.
The compact wheel loaders come standard with a hydraulic quick-coupler system, allowing operators to quickly change attachments from the safety and comfort of the climate-controlled cab. Available attachments and optional equipment for the wheel loaders include forks, light-material buckets, side-dump buckets, high-tip buckets, multipurpose buckets, high-speed travel packages and electrical tank refilling pumps.