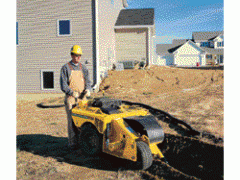 The Vermeer RT200 (Circle 920), from Pella, Iowa, offers powerful hydrostatic trenching in a compact package. The RT200 features a 23-hp Kohler engine and a fully hydrostatic drive system that eliminates gears, belts and pulleys—reducing maintenance costs. The RT200 also includes durable steel shielding, a cost-efficient reversible boom, an operator-presence system, standard tow valve and park brake.
Ramming made easy
Three new gasoline-powered rammers, the MT-65HA, MT-74FA and MT-84FA (Circle 921), have been introduced by Multiquip Inc., Carson, Calif. The rammers are ideal for use in trenches, around retaining walls and when solidifying bases for concrete slabs, roads, bridge columns and other similar applications.
The new MT-65HA delivers 2,900 lb of impact force on 645-695 blows a minute. Fueled by a 3-hp Honda GX100 engine, this rammer weighs 152 lb. The MT-74FA generates 3,100 lb of centrifugal force with the energy of a 3.5-hp Robin EH12 engine. The rammer weighs 179 lb and like the other models in the series features a 2.1-quart fuel tank capacity. For the more demanding applications, the most powerful new model—the MT-84F—is good for 3,500 lb of impact force on 660-700 blows per minute. It also is driven by a 3.5-hp Robin EH12 gasoline engine and travels up to 36 ft per minute for fast and efficient soil compaction.