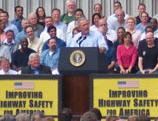 In front of approximately 4,000 Midwesterners at a Caterpillar plant in Montgomery, Ill., President George W. Bush signed the long-awaited H.R. 3, the Safe, Accountable, Flexible and Efficient Transportation Equity Act–A Legacy for Users (SAFETEA-LU). The $286.5 billion bill will fund the highway and bridge industry for the next six years.
Despite a U.S. DOT study that revealed the U.S. needed $375 billion in its next long-term highway bill just to maintain the current system, both Rep. Dennis Hastert (R-Ill.) and President Bush boasted about the legislation's ability to increase safety, employment and highway capacity.
"This legislation will strengthen our nation's infrastructure system to accommodate our strong economic growth," said Hastert, who introduced President Bush. "Residents in [Illinois] understand we need to expand our transportation network, and that's what this legislation is all about."
Before signing H.R. 3, President Bush commended the efforts of Congress, particularly those of Sen. Kit Bond (R-Mo.), Sen. James Inhofe (R-Okla.) and Rep. Bill Thomas (R-Calif.).
"The last four years this economy has been through a lot," said President Bush. "To grow the economy and to help the American family, we acted. But we recognized in Washington that more needs to be done. This is why I'm proud to be here to sign this transportation bill because our economy depends on us having the most efficient and reliable transportation system in the world. If we want people working in America we need to make sure our highways and roads are modern. You can't expect your farmer to be able to get goods to market if we don't have a good road system. This road system is going to be modernized under the Transportation Equity Act."
President Bush used Illinois' Prairie Parkway as an example of increased road capacity. The Prairie Parkway will connect I-80 and I-88 to become a major economy mover in the region. It also will help accommodate Kane and Kendall counties, "two of the fastest growing counties in the U.S.," according to President Bush.
On July 29, the House and Senate each overwhelmingly passed the final legislation reauthorizing the federal highway and transit programs through FY 2009.
The level of investment contained in the bill was made possible largely by the reforms enacted last year to the federal tax treatment of ethanol motor fuels. The ethanol tax changes ensured the Highway Trust Fund will be compensated for the sale of ethanol motor fuels and will provide $18.9 billion in new trust fund revenues that will be used by the multi-year reauthorization of TEA-21 to improve the nation's highway infrastructure network.
SAFETEA-LU will provide funding for federal highway, safety and transit programs. A total of $189.4 billion is allotted for the core highway program through FY 2009, starting with $34.4 billion in FY 2005, up to $41.2 billion in FY 2009. A total of $45.2 billion will go to the transit program through FY 2009--$7.6 billion in FY 2005, up to $10.3 billion in FY 2009. The federal safety programs will receive $6.14 billion in funding through FY 2009.
Each state's minimum rate of return on its Highway Trust Fund contribution will increase from the current 90.5% to 92% by 2008. All states are also guaranteed a total six-year average highway funding increase of at least 19%, when compared with the state's six-year TEA-21 funding total.