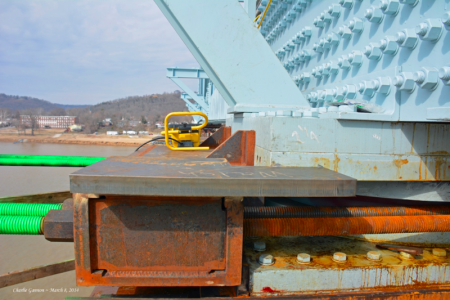 A nearly 100-ft concrete bridge section over the Milton, Ky., riverbank was slid into place recently. Video of the event is available at http://www.miltonmadisonbridge.com and via Twitter at http://www.twitter.com/mmbridgeproject.
Preparations are continuing to slide the nearly half-mile steel truss laterally 55 ft onto permanent piers. The schedule for the main truss slide has not been determined. Once the slide is completed, the bridge will remain closed while crews connect the bridge to the permanent approaches, which includes pouring concrete, installing expansion joints and pavement striping.
Next major task: Workers plan to use four 200-ton jacks to lift the southeast corner of the new Milton-Madison Bridge steel truss in order to replace a steel bridge bearing, which dislodged on Tuesday, March 11. This will occur early during the week of March 17 and is one of the next steps necessary before the slide of the new steel truss can proceed.
The ferry: A ferry is on the scene and will provide transportation across the river for emergency vehicles, such as an ambulance. Residents are asked to keep Ferry Street and the boat ramps clear on both sides of the river.
Dislodged bearing: As work was taking place early Tuesday morning, March 11, a truss bearing, located at the southeast corner of the bridge, dislodged causing a 12-in. displacement of the truss. The bearing assembly consists of layers of steel plates and a polymer pad.
Closure: U.S. 421 will remain closed across the Ohio River between Madison, Ind., and Milton until the slide is completed and all roadway connections have been made. The anticipated opening date has not been determined but will be announced after the steel truss slide has completed. Signage is detouring traffic to the Markland Locks and Dam Bridge, connecting Kentucky Rte. 1039 and Indiana State Road 101, 26 miles upstream, or the I-65 Kennedy Bridge in Louisville, 46 miles downstream.
Updates: As updates become available, they will be posted on the project's website, http://www.miltonmadisonbridge.com and via Twitter at http://www.twitter.com/mmbridgeproject. Regular updates will also be provided to local news media.
The Milton-Madison Bridge Project is a joint effort between the Indiana Department of Transportation and Kentucky Transportation Cabinet. The new steel truss bridge is 2,428 ft long and 40 ft wide with two 12-ft lanes and 8-ft shoulders—twice as wide as the old bridge.