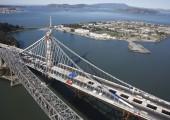 As Caltrans continues to sort out problems with the new San Francisco-Oakland Bay Bridge, the agency still thinks the iconic span will open by Labor Day.
However, repairs will have to go smoothly and may go around the clock. State and regional transportation officials unveiled plans to address a series of cracked bolts—a fix that is expected to cost $10 million.
"We believe the work can get done by Labor Day, but it will require extra shifts and perhaps a 24-hour-a-day operation and that will cost more money," said Steve Heminger, executive director of the Metropolitan Transportation Commission.
Ninety-six bolts, manufactured and galvanized back in 2008, snapped shortly after they were post-tensioned a few weeks ago. They connect the bridge deck to shear keys, which keeps the span flexible during earthquake events. Officials are now keeping an eye on a set of bolts that were made out of similar steel in 2010. So far they are holding up to the stress.
"The longer they are not [breaking], the more daylight we are seeing between the 2008 bolts and the 2010 bolts," said Heminger.
The broken bolts are embedded in concrete and impossible to reach, so the repair will involve a steel saddle that will be clamped down on top of the shear key plates with tensioned cables. A large steel collar also was considered, but would have cost $20 million.