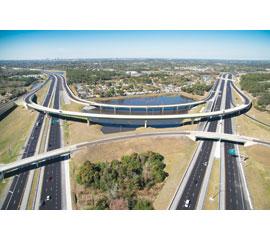 Project: S.R. 408/S.R. 417 System interchange

Location: Orlando, Fla.

Cost: $72 million

Length: 3.5 miles

Designer: RS&H

Contractor: The Lane Construction Co.

Owner: Orlando-Orange County Expressway Authority
The Orlando-Orange County Expressway Authority wanted a true system-to-system interchange to ease congestion. Solutions, however, were not always easy to find. One complex challenge was designing and building five bridges on three different sites. Designers also had to plan for the construction of Ramp G over an existing pond. Original plans were developed to accommodate an access road over the pond during construction. RS&H planned for 17 ponds overall to treat and attenuate runoff from the interchange.