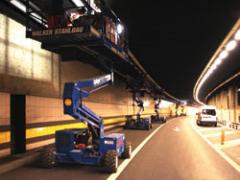 An aerial lift from UpRight recently played a key role in the upkeep of the world's second-largest road tunnel. The SL26SL speed levels (Circle 913) were used in a major maintenance contract to replace all of the cables and lamps in the Gotthard Road Tunnel in Europe.
Gotthard runs for over 10 miles under the Alps and is the main north-south route through the mountains between Italy and Switzerland. The tunnel is used on a daily basis by more than 18,000 vehicles.
The SL26SL lift incorporates unique oscillating axles so the machine will automatically self-level at gradients of up to 35%, making it ideal for bridge maintenance work and all highway maintenance applications.