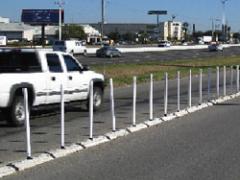 Tuff Post, manufactured by Impact Recovery Systems Inc., is a channelizing post accepted by the Federal Highway Administration as a crashworthy traffic-control device for use on the National Highway System.
The Tuff Post is made of durable polypropylene for flexibility and strength and utilizes a proven reactive spring assembly. Developed to meet the harsh demands of high-speed, two-way roadways, it is the only post in the industry that has been tested and certified to withstand 50 hits at 55 mph and still remain upright with no vertical or horizontal listing.
Typical applications for the Tuff Post could include work zones, parking lots, airports, high-speed traffic lanes, HOV lanes and curves. Posts are available in yellow, white and orange and lengths of 36 in., 42 in. and 48 in.