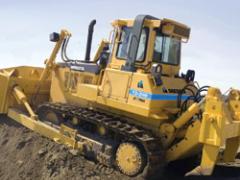 Dressta NA has introduced the TD20M Extra crawler dozer. The new series is available in three track versions: standard, long track and low ground pressure. These machines feature the fuel-efficient Tier III Cummins engine to meet lower emission requirements.
This powerful electronic-control engine has an 8.3-liter displacement. It delivers 240 net hp, an increase of 15 hp over the previous H series model. Maximum torque is now 870 lb-ft. An air grid heater comes standard to aid in cold-weather starting.
The TD20M Extra utilizes a new cooling module with replaceable sections consisting of a charge air cooler (CAC), transmission oil cooler, radiator and hydraulic oil/fan drive oil cooler.
The TD20M Extra has a hydraulically driven, suction-type, variable-speed fan located between the radiator and the front engine grill for ease of service and greatly reduced abrasion to the cooling module by eliminating sand and other debris from being picked up by the fan blades and blasted against the radiator.
Efforts have been made to eliminate or greatly reduce the need for on-board computer control and electronic systems. The TD20M Extra is a relatively easy tractor to troubleshoot and repair, and with the exception of the engine does not require a computer to diagnose problems.