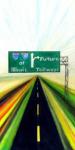 The Illinois Tollway today announced that Lewis Cafaro, a senior at Lincoln-Way North High School in Frankfort, is the grand prize winner of the 2012 Illinois Tollway Map Cover Art Contest. The contest was sponsored by the Illinois Tollway, Blick Art Materials and U.S. Equities.
"There were so many outstanding entries from other students. I was surprised that mine had been chosen as the overall winner," Cafaro said. "I am very excited about the award and have really enjoyed being part of the contest." Cafaro's artwork is pictured at left.
The Tollway received 76 entries from student artists attending high schools throughout the region, from Chicago to Rockford. More than 10,000 votes by the general public were recorded online to identify nine finalists, with the overall winner and runners-up in each of the three contest theme categories selected by a panel of judges including members of the Tollway board of directors and representatives from U.S. Equities.
Student artists with the top votes in each of the contest's three transportation-related themes, include:
* Dominika Rog, a senior from Elmwood Park High School in Elmwood Park, for Distracted Driving.
* Ashley Miyagawa, a senior from Lincoln-Way East High School in Frankfort, for "Green" Transportation.
* Kaylee Sherrod, a junior from Steinmetz Academic Centre in Chicago, for Tollway of the Future.
Artwork created by the grand prize winner will be featured on the cover of the Tollway's 2012 map, which is distributed at no cost to more than 125,000 customers. Winners from each of the three categories will be featured in the Tollway's annual report. Awards include:
* The Grand prize winner was presented with $400 in gift certificates from Blick Art Materials and $200 in gift certificates from U.S. Equities to use at Oases retail shops and restaurants;
* The Runners-up received $200 in gift certificates from Blick Art Materials and $100 in gift certificates from U.S. Equities; and
* All students who participated in the contest will receive a certificate of appreciation from the Tollway.