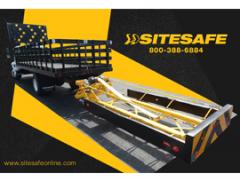 Site-Safe's TMA Trucks can withstand the abuse of the highway construction industry while providing worksite protection.
Trucks include an international 4300 model chassis, NCHRP 350 TL-3 rated truck-mounted attenuator, 24-light MUTCD-compliant arrow board, 24-ft bed with stake racks and real-time GPS tracking hardware.
Our TMA Trucks don't require a CDL and have automatic transmissions and air conditioning for additional comfort.
Rent or purchase.  Is your work-zone Site-Safe?