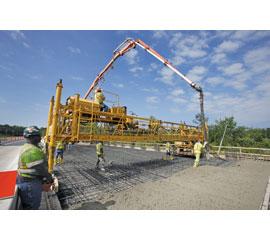 As Larry Gescher tries to end a game of communication hopscotch in the state of Oregon, he is tossing more than one pebble out into the construction marketplace.
His new firm would probably prefer to work out of the square offering bridge construction and rehab, but he'll also take more unique jobs as a landing spot. HP Civil Inc. is in the process of building six radio towers throughout Oregon for the department of transportation. According to Gescher, emergency services throughout the state currently cannot communicate from one end of Oregon to the other, creating a "hopscotch" effect.
"They have to go through different agencies to get connection [to communicate], so the governor mandated that they get this worked out," Gescher told Roads & Bridges. "Competition [for radio tower work] is not as fierce. You don't have to bang your head against the wall to get a job."
The road and bridge industry is still feeling woozy these days, and the culprits are many. The lack of a long-term federal highway bill, tight budgets at the state and local level and a crowded bidding landscape are just a few of them, and even though over 69% of Roads & Bridges readers say 2014 has been either a good or very good year, many are surviving because they are throwing out a much bigger net in the hopes of snagging work.
"Now that the general economy and general construction is starting to pick up, that is helping some of these companies," Alison Premo Black, chief economist for the American Road and Transportation Builders Association (ARTBA), told Roads & Bridges. "My feeling is the federal uncertainty is really still having an impact on the market. Seeing some of the recovery in the general economy, I would think we would expect to see more of an uptick in [road and bridge] activity than we have seen overall."
Remaining positive
According to the latest ARTBA data, one can barely make out a tick at all. In 2014 bridgework, although still operating at a record-breaking pace, took a slight hit. ARTBA is predicting a slight decrease in contract awards compared to 2013 ($30.75 billion in 2014 vs. $30.85 billion in '13). Pavement construction is showing some signs of life, accounting for $47.2 billion in work this year compared to $45.8 billion in '13, but activity is still way below the high water mark set back in 2008-09, when contractors were cranking out over $57 billion worth. In fact, Black said what is most alarming about the road and bridge market is that contract awards were down 16% through October.
"We know that state and local governments have a lot of financial commitments and they pull back, and back in the 80s it wasn't until the gas-tax increase at the federal level that we really started to see market recovery."
The coming year still shows an industry feeling a bit under the weather. ARTBA is calling for 2% growth in pavement work and 1.5% growth in bridge activity, accounting for an overall mark of just under 2%. States like California, New York, Indiana, Kentucky, Louisiana, Minnesota, Oregon, Tennessee and Virginia have seen road and bridge construction either level off or subside in 2014 compared to 2013.
Still, a majority who took the Roads & Bridges State of the Industry survey appear to have a solid footing, most likely because those who survived the recession learned to adapt like Gescher. Over 59% of respondents believe 2015 will be a good or very good year, even though 57.1% say the market is currently "very competitive," a whopping 81.8% believe material prices will go up over the next 12 months, and a little over 63% describe the state they live in as either fair or poor when it comes to generating money for road and bridge construction.
"It is positive news that we are seeing an increase in the pavements and that the bridge market is holding steady at record levels, but putting it in perspective it is still a challenging market," said Black. "I think the market is under-performing compared to where it should be."
Going elsewhere
The road and bridge industry is still in a good place for Larry Gescher and his two partners, who saw enough promise to start HP Civil Inc. in March. The newborn firm won it's first bridge job—on Highway 26 near Seaside, Ore.—just four days after it came into the transportation world, and currently HP Civil is working on a $17 million rehab job on two bridges in Astoria. Earlier in the construction season, Gescher's venture executed a contract in Tillamook County that called for the repair of five short-span bridges. The spans were supported by a wood structure and had a concrete superstructure. HP Civil replaced the concrete caps and some of the stringers. In total, HP Civil, which currently employs nine but hopes to have as many as 20 by mid-2015, brought in $4 million worth of work in 2014. Partnering with other firms proved to be a key, and business could double over the next 12 months. However, the state of Oregon could be staring down the mouth of a major crisis in 2015. According to a pair of reports, Oregon needs to generate $5.1 billion to conduct seismic retrofits of several major bridges that would collapse during a major earthquake, and a growing debt service and other factors will reduce the state's transportation funds in the very near future.
"Right now I know the director of ODOT has pulled back a lot of projects because of the uncertainty of the federal funding," said Gescher. "It's always great to have state money as well, but everybody has their eyes on the federal dollars, too."
Keeping all options open
It's been several decades since D.A. Collins introduced itself to the road and bridge industry, but the Wilton, N.Y.-based company is reading off the same page as newcomer HP Civil. D.A. Collins is leaving all options open, and the third-generation contractor went back to its roots this year by taking on large subdivision work. D.A. Collins owns two quarries, and with intense competition continuing to take up space in the road and bridge market there needed to be an outlet for all of the rock produced.
"This year has been an interesting year," Dave Collins, principal owner and vice president at D.A. Collins, told Roads & Bridges. "We have looked in many ways to rebrand ourselves and try to find some different markets to go after."
Even if those markets lie outside their coverage area. D.A. Collins has been serving about a 200-mile area around Wilton, but it is considering branching out into Pennsylvania, Ohio, Connecticut, New Hampshire and North Carolina.
"Anywhere right now where our core strengths can leverage themselves to give us a good opportunity of a mid-size job," said Collins.
Collins estimates that his company, which employs a yearly average of 500, handled 40 jobs in 2014, but gross revenue and man-hours are down 10% compared to 2013.
"The fierce competition of the market . . .we have had more seconds [in the bidding process] than I even want to discuss," said Collins. "You are in single-digit margins right now, so it's a pretty competitive marketplace."
As for 2015, the New York state legislature could either ignite a promising year, or completely douse it. Lawmakers will look to generate another five-year transportation funding plan. The one that is expiring at the end of December favors the transit industry, which broke tradition. According to Collins, the transit and highway sectors always received an equal share of the money, so the hope is more will be directed to the New York State Department of Transportation for 2015. Design-build legislation also is expiring at the end of 2014, and one of the areas D.A. Collins has invested in is accelerated bridge construction. However, without backing from the state capital the business could be in jeopardy.
"Within the last few weeks alone there has been a series of design-build projects coming out all at once," said Collins. "I can in theory have $150 million worth of work out there and not know where I stand on any of it."
Republican run
American voters took a stand in November and put the Republicans in control of Congress. What this means in terms of a multiyear highway bill is still a bit unclear. House Speaker John Boehner (R-Ohio) indicated in the weeks leading up to the election he would be open to meet with President Obama and hammer out some bipartisan bills. On the Senate side, Barbara Boxer (D-Calif.) will take a step down from chairing the Environment & Public Works Committee and serve as minority leader. Jim Inhofe (R-Okla.) will now take over this group. He chaired the committee during the 2005 transportation bill (SAFETEA-LU), and is widely considered one of the Senate's most conservative members, but believes in the important role infrastructure plays in the U.S. He and Boxer have come together and have made significant strides with highway-funding legislation.
Before the election, Boxer was pushing for a long-term highway bill during the lame duck Congressional session, but as of this writing such a move seems unlikely. The  $10.9 billion MAP-21 extension is supposed to last until May 2015, but if the winter turns mild the money could be used up by the end of March.
"The bottom line is something has to be done sooner rather than later because when you look at the construction season we could start seeing market impacts as soon as February or March because the state DOTs are going to start looking at their plan in January," Beth McGinn, director of public affairs at ARTBA, told Roads & Bridges.
At the state level, Texas scored a major victory for road and bridge construction in November when voters approved Proposition 1, which shifts half of the tax money coming in from the booming oil and gas industry over to the Texas Department of Transportation and could generate more than $1 billion during the first year for road and bridge work.
The transportation sector, however, did suffer a pair of defeats. In Massachusetts, where the state gas tax was recently increased 3 cents, voters decided against indexing the tax to inflation. Louisiana was trying to generate support for the formation of a state infrastructure bank, but the idea was soundly defeated (67.5% said no.) R&B