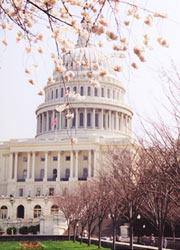 President Bush isn't the only one who likes to play hardball. The Senate took a strong stance against the Texan who once owned a Major League Baseball club on Tuesday by passing its version of the reauthorization of TEA-21. By a convincing 89-11 tally, the Senate approved the six-year, $295 billion H.R. 3 despite veto threats from the White House.
"The overwhelming bipartisan approval of a highway and transit reauthorization investment bill by the U.S. Senate is another positive step forward," said Pete Ruane, president and CEO of the American Road & Transportation Builders Association. "We urge the House of Representatives to follow the Senate's lead in providing real-growth investment in the federal highway and transit improvement program so that America can begin to address its growing transportation challenges."
The House of Representatives followed protocol during its passage of a $284 billion bill over a month ago. The funding level was as high as President Bush said he would go before striking a veto.
Under the Senate's H.R. 3, each state would receive at least a 15% increase over TEA-21 funding levels and also would receive a 91% rate of return on gas taxes collected in the state. The rate would increase to 92% in 2009, the final year of the bill's authorization. The highway funding obligation limit for FY 2005 is $34.4 billion. If the $295 billion version is signed into law it would provide $38.9 billion in FY 2006; $39.35 billion in FY '07; $41.3 billion in '08; and $42 billion in '09.
The Senate's bill, however, did not go uncontested. Sen. Jeff Sessions (R-Ala.) attempted to reduce overall funding by $11 billion by cutting a variety of different program categories. His amendment was defeated by an 86-14 vote. It was the second strong vote in favor of the approved funding level. Last week, a budgetary point of order was struck down by a 76-22 count.
The next step for the House and Senate will be to appoint conferees to meet and negotiate a final bill, which will be sent to President Bush.
"This bill is about more than money," said Greg Cohen, president of the American Highway Users Alliance. "New policies that streamline the decades-long bureaucratic review process for highway projects are included in the legislation. According to the Department of Transportation, major projects can take up to 13 years to complete these reviews while highway users wait in frustration."
Now is the time to voice your approval for the $295 billion level. You can e-mail President Bush at [email protected]. For a complete version of both the House and Senate bills, go to www.house.gov and www.senate.gov.