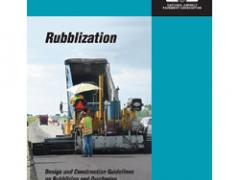 The National Asphalt Pavement Association (NAPA) recently published a new technical document, Rubblization: Design and Construction Guidelines on Rubblizing and Overlaying PCC Pavements with Hot-Mix Asphalt. Rubblization is a rehabilitation process that turns a portland cement concrete (PCC) pavement that has reached the end of its service life into an excellent base for a new, smooth, durable, safe, quiet asphalt pavement.
NAPA's new 32-page publication provides comprehensive guidance on every aspect of rubblization technology, from evaluation of the existing PCC pavement, through design of the hot-mix asphalt (HMA) overlay, to final construction of the HMA. The various types of rubblization also are covered in the publication. Other issues addressed include preparation of the PCC pavement, drainage, dealing with utilities and underground structures, quality control and troubleshooting.
Rubblization is available from NAPA at $16 per copy.