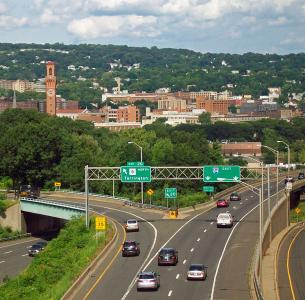 The Connecticut Department of Transportation (CDOT) has announced plans for an upcoming project on an 8-mile stretch of I-84 between Exits 3 and 8, as part of its "Let's Go CT" initiative, a 30-year, $100 billion transportation investment plan.
The I-84 project is estimated at $640 million and will start in five years. It aims to rebuild the congested stretch of roadway, improve safety, increase capacity, advance operations and develop access to the highway.
CDOT and a team of consultants will work with the city of Danbury, local businesses, community groups, and other stakeholders to ensure the project meets public expectations.
The I-84 Danbury Project team will launch a website and host a series of public meetings in early 2017, in conjunction with other modes of public outreach, including newsletters, stakeholder meetings and social media updates.
"Improving safety and access and reducing congestion on this section of I-84 in Danbury will have positive effects for commerce in the region and the state," said CDOT Commissioner James P. Redeker in a statement.
Construction is expected to start by 2022 and continue for several years.
CDM Smith, out of Hartford and New Haven, has been hired by CDOT to lead the public involvement and preliminary engineering phases of the project.
Image source: Daniel Case at the English Wikipedia project