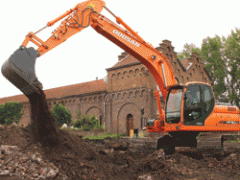 Doosan has released three new hydraulic crawler excavators, models DX180LC, DX225LC and DX255LC; and four new hydraulic wheel excavators, models DX140W, DX160W, DX190W and DX210W.
The new Doosan DL06 engine powers both the crawler and wheel models. Engine power ranges from 118 hp to 173 hp in the crawler models and 132 hp to 162 hp in the wheel models.
Powerful engines and a redesigned hydraulic system have improved production performance in Doosan's new DX models. Power is complemented by options, with the operator having the choice of two power modes, two working modes and an auto idle system, which improves fuel economy.
Operator comfort is increased in the new DX models through improvements such as a greater cabin width, increased airflow, improved seat quality and increased front and side visibility.
Adding convenience to comfort and power, the servicing requirements of the machines have been reduced by almost half.
Other redesigned features include the bucket structure, which now includes reinforced bosses and abrasion-resistant steel plates, and the undercarriage, which has been revised to increase ground clearance.