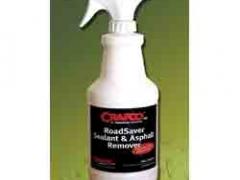 Crafco and Pantheon Chemical have partnered together to bring a new product, Crafco Roadsaver Sealant & Asphalt Remover, to the asphalt sealant industry. Roadsaver Sealant & Asphalt Remover is a patent-pending, non-hazardous, non-toxic, low-odor, low-flammability, readily biodegradable product designed to replace the use of diesel fuel and d-limonene-based products currently on the market. The strategic alliance of Crafco and Pantheon Chemical provides additional opportunities to bring green non-hazardous, non-toxic products into the asphalt pavement preservation industry.

This new cleaner from Crafco dissolves grease, oil, asphalt and sealant while it protects the paint finish on the equipment surface being cleaned. RoadSaver Sealant and Asphalt Remover effectively dissolves sealant and asphalt build up on all painted or unpainted surface leaving an invisible protective coating to help reduce future buildup. Crafco RoadSaver Sealant & Asphalt Remover works better than any other comparable cleaner or solvent for use on paving tools, truck beds, spreaders, equipment and any surface that needs cleaning.
It's biodegradable and environmentally friendly and non-flammable, making it one of the safest cleaning products available.