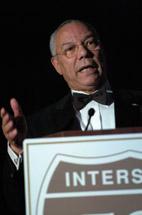 Gen. Colin Powell was the honored speaker at the American Road & Transportation Builders Association's 50th anniversary of the Interstate System dinner in late June.
At the event he talked about how President Dwight D. Eisenhower, the creator of the interstate, signed his commission as a young second lieutenant in 1958, how Eisenhower himself was inspired to push for the intense network of roadways and how life was like as a minority before and after the interstate system was complete.
More importantly, he urged the current Congress and administration to find a new vision of transportation, one that would sustain the U.S.'s ranking as the most powerful nation in the world.
Click LearnMore rb081506 to see Powell's moving and inspirational speech in its entirety.