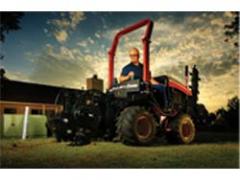 Charles Machine Works Inc., manufacturer of Ditch Witch underground construction equipment, recently announced the release of a new vibratory plow, the Ditch Witch 420sx. This new unit borrows from one of the company's most popular compact vibratory plows—the walk-along 410sx—but adds riding capability, greater horsepower (40 hp) and features such as a dual-speed attachment drive, an operator's console that moves with the operator and a fold-down roll-over protective structure that enables the unit to maneuver under tree limbs, eaves and other low-hanging obstacles.
One exclusive feature of the 420sx is its dual-speed attachment drive. With two speeds, the operator can quickly adapt to changing ground conditions, whether plowing or trenching. The 420sx is designed to closely follow the contour of the ground, which helps the attachment maintain a constant plowing depth on uneven terrain. Besides a standard vibratory plow, the 420sx also can run a Roto Witch boring attachment and a trencher.
Overall productivity is enhanced by the machine's 11-gal fuel tank, another feature that allows the operator to work longer without having to stop to refuel. The increased ground speed and single, pilot-operated control for both the ground drive and steering make the 420sx easy and efficient to operate.