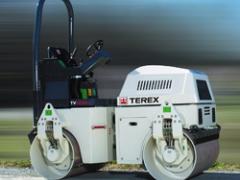 The Terex TV1000 and TV1200 tandem asphalt rollers have two spring-loaded scrapers per drum for excellent cleaning of drums. An electrical diagnostics system gives early warning to the operator if problems occur. The machines have a tow valve that is simple to operate and saves time when towing is needed.
The machines feature a six-in-one joystick for streamlined operation and a dynamic braking system when the joystick is in neutral or the unit is turned off. Full tilting of the hood allows for easy access to servicing the engine compartment.
Plastic fuel, water and hydraulic tanks reduce condensation and are encased in steel for maximum protection.