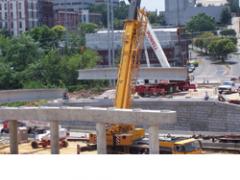 SmartFIX40 is TDOT's first large accelerated project and most expensive to date. The project widens and improves safety on I-40 and rebuilds the interchange with James White Parkway.
Location Knoxville, Tenn.

Cost: $190 million Length: 2.5 miles

Designer: Wilbur-Smith Associates

Owner: Tennessee DOT Contractors: Ray Bell Construction Co., SmartFIX Constructors LLC, Charles Blalock and Sons.