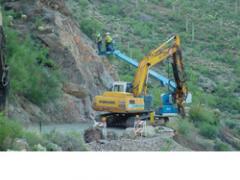 Perhaps the most complex on the Top 10 list, the job improved a steep and narrow two-lane roadway that consisted of 9- to 10-ft-wide lanes. Two, 10-hour shifts working seven days a week completed the project in 30 days.
Location: Pima County, Ariz.

Cost: $524,000

Length: .5 miles

Designers: MMLA Psomas, Saguaro GeoServices Inc., Sage Landscape Architecture & Environmental Inc.

Owner: Pima County DOT Contractors: KE&G Development LLC, Saguaro GeoServices Inc., Rockbreakers Inc.