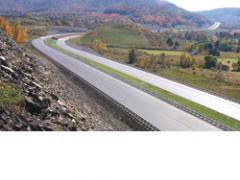 With accidents on the rise, PennDOT decided to convert Rte. 15 from a two-lane arterial to a four-lane access highway. When completed, the corridor will be designated as I-99. The project required the excavation and placement of approximately 5 million cu yd of earth.
Location: Tioga County, Pa.

Cost: $52.3 million

Length: 6.2 miles

Designer: Gannett Fleming Inc.

Owner: Pennsylvania DOT, District 3-0

Contractors: New Enterprise Stone & Lime Co. Inc., Glenn O. Hawbaker Inc.