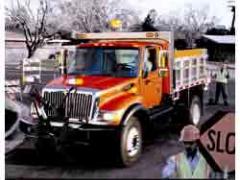 Think heavyweight money saver. International 7400 and 7500 work trucks are purpose-built for construction, government and other demanding on- and off-highway applications. Powered by lean and strong International DT 570 and HT 570 engines, these trucks only stop working when you tell them to.

Designed to produce high clutch-engagement torque for easy starts, the International DT 570 diesel engine boasts ratings from 285 to 330 hp and 800 to 950 lb-ft of torque. The International HT 570 has ratings between 295 and 340 hp and between 950 and 1,150 lb-ft of torque.

The in-line, six-cylinder engines provide a valuable ownership experience over the life cycle of the truck. "Drivers appreciate the excellent throttle response, quick starts and quiet idling. Technicians enjoy the extended service intervals and ease of maintenance," said Tim Cooney, vice president of worldwide sales and marketing, International Engine Group. "Most of all, owners like the engines low cost of ownership, long-life durability and increased profit potential."

Advanced air and fuel control delivers higher performance for these work trucks. An EVRT electronically controlled turbocharger uses adjustable vanes within the turbo to optimize boost across the entire operating range, assuring drivers of improved throttle response and greater power and torque, as well as optimized performance and decreased emissions. Better breathing also means higher efficiency. Cooled exhaust gas recirculation reduces oxides of nitrogen (NOx) to meet strict emissions standards.

And when it comes to fueling performance, the International electro-hydraulic Generation Two (G2) fuel system is a common rail design, with no high-pressure external lines driving digital valve injectors. The G2 system offers more precise timing control for optimized fuel delivery, meaning better fuel efficiency and reduced emissions.
International DT 570 and HT 570 diesels are built with the kind of durability-enhancing features you'd expect in a heavy-duty engine—including proven replaceable induction-hardened wet sleeve engineering. Longer engine life is achieved with durability—enhancing features like six bolts per cylinder on the cylinder head, roller cam followers that utilize roller bearings and pad-mounted accessories. Positive valve rotators ensure longer valve and valve seat life. Each piston's targeted cooling jet delivers 30% better piston cooling with a simplified design for longer piston life.

These integrated truck and engine packages even take a load off maintenance time by lengthening service intervals. And uptime is increased with a top-loaded fuel filter that provides easy access for quick filter changes.
Because International is a combined truck and engine company, the diesels uniquely integrate with the International Diamond Logic electrical system to bring advanced diagnostics for quicker troubleshooting, faster repairs and increased uptime.

Drivers also can expect unmatched braking performance with the International 7400 and 7500 trucks. An optional International Diamond Logic exhaust brake is integrated into the EVRT turbocharger without external braking devices. The exhaust brake provides up to 150 bhp. On the International HT 570, an optional Diamond Logic engine brake provides the braking power of traditional mechanical engine brakes with significantly reduced noise levels. The engine brake provides up to 275 bhp. Both brake systems integrate with cruise control to help keep the vehicle at desired speeds.

Building on International's strong heritage in work trucks for construction and government usage, the International 7400 and 7500 with advanced diesel power deliver performance that helps you make money—and look good doing it.