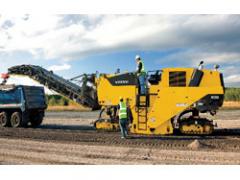 Volvo Construction Equipment has developed a new class of milling machines for the road development industry with the introduction of the Volvo MT2000 and Volvo MW500. It is expected that both models will be available to the North American market in the second quarter of 2009.
The Volvo MT2000 is a four-track, front-load, half-lane milling machine powered by a 610-hp Tier III Cummins engine. It offers three distinct engine and drum cutting speeds selectable from the operator's panel—an industry first. The low-speed selection provides higher torque at a lower engine speed to power through tough material or deep-cut applications. The high-speed selection is available for maximum travel speed on shallow cutting depths. The standard cutting speed is used to provide maximum horsepower and efficiency at normal cutting depths.
The Volvo MW500 is a four-wheel, rear-loading, utility-class milling machine that offers a standard cutting width of 19.69 in. Because of its compact size and maneuverability, ideal applications include patching, joints, trenching and close cutting around street and roadway obstructions. It has an extremely tight cutting radius of 7.87 in., which is comparable to many three-wheel machines on the market. The right-rear support leg and wheel can be swiveled inboard for flush cutting. The MW500 offers all-wheel-drive for optimal traction and features antislip control as standard.