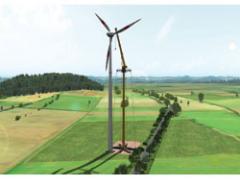 Manitowoc Crane Group, Manitowoc, Wis., has launched a brand new technology for the lifting industry, the Grove GTK1100 crane (Circle 908), that utilizes a completely new concept in lifting engineering. The GTK1100 includes a specially developed wheeled mobile carrier with a vertical telescopic boom at its top. The crane's design maximizes lifting capacity at height, while offering a lower cost of operation when compared with existing technologies.
The crane's patented design offers numerous benefits to those working on wind farms, refineries, power plants, petrochemical facilities or anywhere space is at a premium. The GTK1100 has an advantage over other types of lifting equipment because it requires very little room to erect and can be transported to the site with as few as four trailers. The crane's unique engineering and mobilization features make it ideally suited to work in congested urban areas. The crane also offers significant economic advantages on sites where transport costs are an issue.
Mounted at the top of the vertical tower is a telescopic luffing boom. When fully extended, the GTK1100 will have a maximum lift height of over 459 ft. Final specifications have yet to be confirmed, but initial tests suggest the crane will lift loads of over 77 USt to heights of over 394 ft.