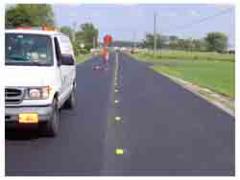 For more than 20 years, Davidson Brand Temporary Overlay Markers (TOM) and Temporary Raised Pavement Markers (TRPM) have been saving the lives of drivers on newly paved roads. Now, however, the application of this product has radically changed to save even more lives—those of the road workers.

Davidson Traffic Control Products has taken a great product and made it even better with the creation of the EZ Mark Work Zone Pavement Markers. EZ Mark Work Zone Markers are temporary pavement markers packaged on continuous release paper. This way workers can quickly "peel-and-stick" markers with very little effort. EZ Mark Work Zone Makers are even easier and faster to peel and stick, whether directly on the road or into the RAM TPM 2100 Road Automated Machine. Each marker is evenly spaced allowing the installer adequate time to place the marker into the RAM TPM 2100 applicator in properly spaced sequence.
When a project calls for miles of pavement markings in construction or maintenance work zones, contractors want the fastest, most reliable way to install them. When project engineers think about improving safety in their work zones, getting workers off the traveled roadway and providing bright, effective markings are two desirable goals.

By making sure that no one walks in the work area, the RAM TPM machine provides the promise of safer work zones for the men and women whose job it is to build our nation's highways. The EZ Mark TOM and RAM TPM 2100 combine to accomplish all of these goals. Roadways marked with these new products feature faster installation of temporary markers; more consistent pattern of temporary markers in work zones; and lower worker exposure to traffic.
EZ Mark products, exclusively available from Filtrona through their worldwide distribution network, are made of the same quality materials as our standard markers and provide the same bright visibility and superb performance Davidson products have shown on highways worldwide since 1984.
EZ Mark products are available in different styles and colors for different work-zone applications: EZ Mark TRPM markers for chip seal and slurry seal and EZ Mark TOM markers for asphalt overlay and two-way, two-lane centerline applications.

The use of the new EZ Mark TOMs and the TPM 2100 machine provides the traveling public with a safer roadway, improves worker safety by automating the application of temporary markers, reduces costs by reducing labor and speeding up operations and overall increases the quality of the end product—the roadways on which the public travels.