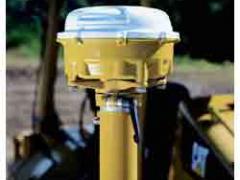 Caterpillar is the first in the construction equipment industry to provide a machine-integrated, sensor-independent solution that allows customers to easily interchange between laser and GPS. AccuGrade is a versatile, rugged grade control system that is backed by Caterpillar and the world-renowned Cat dealer service and support network.

AccuGrade is factory installed, eliminating the need for costly field installations that can introduce contamination into the machine. This system leverages proven hydraulics and electronics to provide a seamless solution that works in conjunction with the extensive Caterpillar line of technologies and attachments. Because it is integrated into the machine controls, AccuGrade enables operators of all skill levels to move material once—and do it right the first time.

The CAN-based architecture of Cat machines equipped with AccuGrade features a sensor-independent design incorporating "plug-and-play" connections. This versatile solution enables operators to use GPS for complex 3-D designs, such as golf courses and roads with intricate elevations, and then easily switch to laser for flat, consistent slope(s), such as parking lots, roads and highways, as well as indoor operations.

Caterpillar remains the industry's leader by providing customers with rugged, dependable equipment that is supported by an unmatched worldwide dealer network.

AccuGrade utilizes high-precision GPS technology to eliminate costly rework by providing real-time feedback of the entire jobsite to the operator. Ensuring the material is moved correctly the first time, with fewer passes, improves productivity by 30% or more. In addition, this system leverages Cat's 30 years of experience designing components to last in the earth's harshest environments, thereby reducing downtime by increasing reliability.

AccuGrade GPS decreases the need for traditional grade staking, reducing costs and downtime spent waiting for grade checkers. This also means there are fewer people in the work area, reducing the risk of accidents and injuries. In addition, AccuGrade provides increased safety by monitoring and alerting operators of avoidance zones. Because of the integrated design, AccuGrade has an exclusive automatic locking feature preventing blade movement when the system is inactive.

AccuGrade uses a patented dual-combined receiver and antenna system to achieve increased precision on both simple and complex design surfaces. The receivers, along with a cab-mounted radio, collect positioning data from satellites and an off-board GPS base station. The AccuGrade system uses all the incoming data to calculate the position of the blade relative to the design plan with centimeter-level accuracy. That information is delivered to an in-cab display, where the operator can view it in a variety of graphical and text formats. This display, along with three-colored light bars, serves as a guidance tool for the operator. The operator has the option to control the blade manually using these guidance tools, or to let the system control the blade. In either case, the desired grade can be achieved quickly, consistently and accurately with less operator fatigue.
AccuGrade is currently available as an option for Caterpillar D3G, D4G, D5G, D5N, D6N, D6R II, D7R II, D8T and D9T track-type tractors.