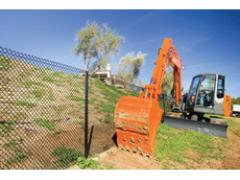 Hitachi recently introduced the ZX85USB-3, a compact ultrashort excavator. The machine is suited to landscaping, light residential, urban renewal and underground utilities.



The ZX85USB-3 excavator delivers all the power, smoothness, precision and ease of operation as larger Hitachi models in an easy-to-maneuver package. The new shape of the backfill blade provides better crowding performance and additional machine stability and is easier to see by the operator. The swing boom adds yet another dimension of performance by enabling parallel digging to walls, guardrails and foundations.


The ZX85USB-3 features a turbocharged Isuzu 4LE2X engine and Hitachi's own patented HIOS III hydraulic system. The Tier III-certified engine works very well at high altitudes without sacrificing performance. Regenerative flow on the boom, stick and bucket cylinders results in faster down movements, extremely fine control and multitasking.