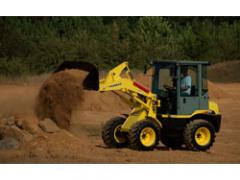 Yanmar's new V-Series compact wheel loaders do more in less time and at less cost. The two new loader designs are built around quiet, reliable, fuel-efficient Yanmar diesel engines. For multipurpose versatility, the V3-6 and V4-6 loaders (Circle 904) can be equipped with an optional mechanical Quick-Coupler that fits most skid-steer attachments.
A user-friendly design philosophy was focused on the three major elements demanded of wheel loaders for today's highly competitive construction market: ease of operation, versatility and durable onsite performance. These new models also offer a reduced overall height to make them even more compatible with enclosed carrier loading and unloading operations. This lower profile also improves the machine's center of gravity, promoting greater stability in the process. The V3-6 and V4-6 standard canopy versions weigh in at 6,801 and 8,058 lb, respectively.
A fully automatic drive mode allows the loaders to accelerate smoothly and change gears with no operator input. A fixed speed mode keeps them in low gear regardless of the position of the accelerator pedal.
Driving force is transmitted evenly to the ground, thanks to a system of rear-axle oscillation. Designed for irregular surfaces, this feature reduces operator fatigue and ensures operator control of the equipment. Combined with a full 10 in. of ground clearance on the V3-6 and 12 in. for the V4-6, unlimited access to any and all parts of the jobsite is the routine.