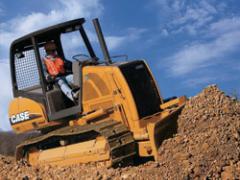 The three new crawler dozers in the K Series from Case Construction Equipment, Racine, Wis., boast a quiet, high-visibility cab, powerful new hydrostatic PowerStat drive and single-lever control for optimum maneuverability and easy operation. The Case 650K, 750K and 850K XLT crawler dozers offer a host of new features that make for powerful performance, maneuverability, operator comfort and easy maintenance and cleanup.
The new K Series models (Circle 902) deliver from 75 to 96 net hp and net torque from 265 to 318 lb-ft. Blade capacities range from 2 to 2.73 cu yd. The 650K model has 88 in. of track on the ground; the 750K has 89 in.; and the 850K XLT has 93 in.
The hydrostatic pumps and motors were made larger on the 650K, 750K and 850K XLT to provide more power to each track. The pumps are isolation mounted to the frame to reduce vibration and provide smooth operation.
The dual-path hydrostatic drive is engineered to maintain a 2:1 power ratio speed when steering. Each side has components sized to accommodate high horsepower so larger blades can be pushed through curves and the operator can easily compensate for blade draft, thereby reducing the number of passes needed to move materials.
Helical-cut gears in the new final drive assemblies reduce noise levels. With a larger diameter sprocket, two more gear teeth have been added on the Case Lubricated Track, extending undercarriage life. The Case Extended Life Track undercarriage provides outstanding durability and life in abrasive conditions.