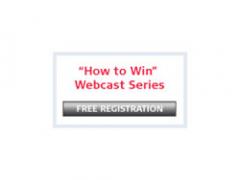 Do you want to win lucrative contracts to build roads, bridges, tunnels, dams and other critical infrastructure projects under the American Recovery and Reinvestment Act (ARRA) of 2009?
If so, you must take fast action, find the right projects to bid on, and submit your proposals before the rapidly approaching August 17, 2009 deadline.
That's why I urge you to register now for a free 1-hour webcast, "Winning and Profiting from the American Recovery and Reinvestment Act," sponsored by Leica Geosystems, one of the world's leaders in geotechnical positioning technology. Only 1 day left to register.
In this fast-paced, information-packed session, you will discover:


-Where the $140 billion in stimulus money earmarked for infrastructure projects is going.


-How federal and state contracts will be awarded under the ARRA.


-Practical tips for beating out fierce competition to win contract awards.



-Where to get early notification of new ARRA projects coming up for bids.


-Ways to reduce costs to make your bids more competitive without sacrificing profits.


-New technology that can give you the edge in building infrastructure projects faster and more accurately.