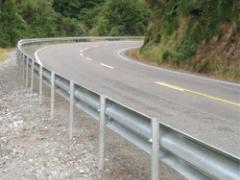 Nucor Steel Marion, Inc. introduces NU-GUARD-31, an innovative w-beam guardrail post system that combines NCHRP 350 (TL-3 and TL-4) and MASH-09 (TL-3) compliance with a design that makes installation and repairs simple, fast and inexpensive.


Specially designed 5 lb. /ft. RIB-BAK U-channel steel posts allow a standard w-beam guardrail to rise during impact for superior energy dissipation.


NU-GUARD-31 eliminates the need for heavy, expensive thrie-beam guardrail. No offset blocks are needed either.
A simple bolt assembly attaches a standard W-beam guardrail to NU-GUARD-31 posts. The revolutionary system is uncomplicated – making it much faster, easier and less costly to install than traditional wood or I-beam post systems.


Visit us at ATSSA Traffic Expo, Booth 1236.