Takes all types
Whistler project has variety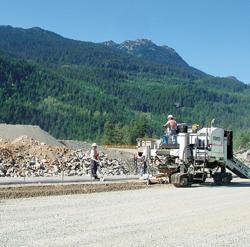 iko Projects Inc. has been a family owned company since 1980, specializing in slipformed concrete curb and gutter and sidewalk projects. The company purchased their first GOMACO Commander III in 1981. Ever since then, it's been nothing but Commander IIIs for their projects.
"Versatility and quality are an important part of our operation," Stan Kuramoto, an owner in Niko Projects, said. "We pride ourselves on being efficient and the industry leader."
Niko Projects slipformed 32,808 ft of curb and gutter in Whistler, British Columbia, the host mountain resort of the 2010 Vancouver Winter Olympics. The project required four different curb profiles, two of them unique to Whistler. The profiles were designed to minimize damage to the face of the curb that could be potentially caused by the blades on snowplows when removing snow.
The four profiles were: Type A with a 23.6-in.-wide gutter and 11.8-in.-tall curb; Type B with 23.6-in.-wide gutter and 9.8-in.-tall curb; flat curb that was 23.6 in. wide and 7.9 in. tall; and swale curb that was 23.6 in. wide and 7.9 in. tall in the center of the valley with two steel rebar inserted.
The concrete was 4,641 psi, with 5% to 8% air added, water reducer, fly ash, fine and coarse sand and glacial water. The base material utilized rock that had been blasted out earlier in the project. It is crushed on-site and then placed on grade.
"It created a very hard base for us, but the Commander III has more than enough power to get through it," Kuramoto said. "We trimmed and poured on all of the profiles except for the swale curb. On that, we pretrimmed, backed up on the stringline, sideshifted the trimmerhead out of the way and slipped the swale curb, feeding the two strands of steel through holes that we created in the front of the mold.
"The ability to lift and swing the trimmer saved us many hours on this job. It also allowed us to reduce the amount of handforming we had to do. Due to the different areas of phasing we had to complete, we had a lot of areas where we had to slipform up to existing curb that we'd done earlier. We only had to move the trimmer out of the way to connect to the existing, and that saved us time and labor."
Production averaged well over 0.62 miles per day, even with the constant mold changes caused by four different profiles.
Working conditions were crowded and Niko was constantly working around other contractors trying to complete their work. Added precautions on the site also were taken to avoid wandering bears.
"This particular site was formerly a dump site, so this has been the bear's domain a lot longer than ours," Kuramoto said. "There were strict rules on where you could keep your lunch and how you disposed of your garbage on the jobsite. The inspectors didn't allow graffiti, but didn't mind us leaving the bear paw prints in our fresh concrete curbs."